The Pool People Courses
Course Dates
As the man who brought the PHTA (NSPF)® CPO® courses to Cyprus, Tony Bell, the Director and owner of The Pool People Ltd would love to be leading the courses, 7 days per week but it's just not possible!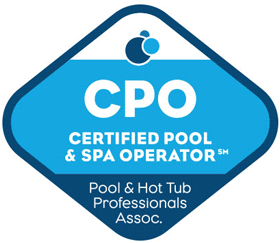 As well as running a business whose team ''walk the walk'' of the PHTA (NSPF) CPO practices, Tony also offers a ''mentor'' service to PHTA (NSPF) CPO's who he has trained over the past 12+ years.
Even those who are considering taking the course, regularly call into the office to ask Tony's advice and help- and it's given freely to the person asking: if they are serious about making water safer and healthier to swim in
Tony is serious about helping them!
PHTA (NSPF) CPO pool and spa operators courses:
Tony runs a minimum of two, two-day courses per year. Normally held in a local hotel in the Paphos region.
Limited to 8 people on each course, early booking is recommended. The Course is a 2 day, open book one with an exam at the end of day two. Cost of the course is 395 euros. Deposit required to secure place.
Here is a brief look at the shape of the two-day NSPF CPO course:
Day One: 7.45 am registration
8 am – 12 pm: Lessons
Lunch break
1 pm – 5pm Lessons
HOMEWORK!  Please be prepared for 2 hours of homework on day one!
Day Two: 7.45 am – Review and Homework analysis
9 am – 1 pm lessons
Lunch break
2 pm EXAM:

(no time limit set. Average exam time is 2 – 2.5 hours but more important to be right than to be rushed).
As well as the Certified Pool and Spa Operators ( CPO) training course we have two basic introductory, training programme 1 and training programme 2. These courses are undertaken on a bespoke /demand basis, throughout the year. Please contact Tony direct for information
PRIVATE COURSES:
Individual courses are designed and undertaken by companies across Cyprus, subject to that company training needs and levels of experience. HRDA support is available for individuals and companies (subject to all social insurances being up to date and in accordance with Cyprus law).
Email for further information to CPO@thepoolpeople.eu
April 25th & 26th 2020
[MARCH COURSE IS FULL]